Get Involved with Farmship Co-op
Our farm offers several ways that you can come and learn with us and enjoy life on the farm. Three days per week one or two vehicles leave Nanaimo to come to the farm and lend a hand in the field or at the packing shed. There are opportunities for everyone to get involved regardless of your farming or gardening experience or your abilities. Farmship has opened its doors to people of all abilities. Some work is more physical than other, some requires more dexterity, some is very simple and just needs to get done!
Contact us to enquire about our schedule and opportunities.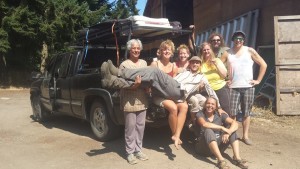 Our farm also hosts wwoofers coming through the Wwoof Canada program.