Farmship's CSA Box Program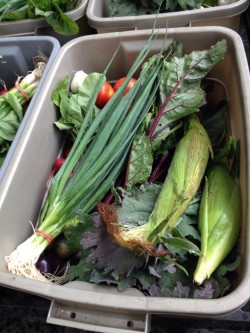 Registration for 2017 summer season is now open!
We are currently growing thousands of transplants for the upcoming season in order to offer to you the greatest variety and quantity of fruits and vegetables.

The whole season CSA will begin May 5th,  2017 and will end December 15th, 2017.
Our Spring CSA is now Sold Out. The first delivery is May 5th 2017 and the last delivery in June 16th.
The Summer CSA starts June 23rd and runs for 13 weeks to the fall equinox September 15.
The Fall CSA will start September 22nd and end December 15th.
You have the option to register separately for any of the three seasons (Spring, Summer and Fall).
Deliveries or pick-ups are every Friday.
To register directly online please select Online Shop  or CSA from the  menu at the top of this page.
Click on this PDF link to print the form Farmship 2017 CSA. Simply print, fillout and send your registration and payment by mail.
Membership & Terms of Use
Membership
By becoming a Member of the Farmship Community Supported Agriculture program you are agreeing to support our growing endeavor and we are very grateful to our community. The funds raised with the sales of CSA shares for the season are directly invested into growing the food that will be provided to you during the season. We guarantee the quality of our produce to be grown following organic methods and to be the freshest it can be.
Upon signing up you will receive a weekly Food box by home delivery or from a location pick-up downtown Nanaimo ( 46 Robarts Street, Nanaimo) or at the main farm in Yellow Point.  Our program runs 8 months! Emails with details of seasonal box changes and options will be sent in advance.
You can make changes to the type of Box you receive or special circumstances by contacting us at admin@farmship.ca
You can make changes to your delivery instructions by contacting admin@farmship.ca
We will follow your delivery instructions, so please be specific. We guarantee the quality & freshness of the items delivered in your box. Once we drop off your box, we pass that responsibility on to you. Please include instructions that will ensure the items in your box do not warm up and wilt (or freeze!) outside before you get home!
Our Commitment to Quality, Sustainability & Transparency
Farmship guarantees the quality & freshness of every item we deliver to you!
If you ever have a concern about the quality or freshness of an item in your Box, please send us an email! Likewise, if you ever find an item missing from your Box.  We work hard to make sure that this doesn't happen, but we're only human We will refund the item, replace it if we can, or send an extra goodie in your next Box.  The earlier you let us know, the faster we can find a solution to the problem!
We guarantee that everything we offer in our Boxes and on our online Store is grown with love, sustainably and ethically from local sustainable growers and producers! 90% of the produce is grown right here in Yellow Point, just north of Ladysmith.
Payment Details
Farmship CSA Memberships are activated upon receipt of payment for the upcoming season. A season is a determined number of weeks in the Spring, Summer or Fall. One can also choose to pay for the entire three seasons ahead of time and enjoy a little discount.
We accept payment by e-transfer to this account Farmship Growers Co-op, email admin@farmship.ca (please make the answer to the security question 'localfood'), or cheque payable to Farmship Growers Co-op, sent to 13188 Doole Rd, Ladysmith BC V9G 1G6.
Cancellation
Sorry you have to leave us! We understand that in some circumstances you may have to cancel your membership. If for some reason you need to cancel your membership with us, please consider offering it to a friend or a neighbor first. Contact us (admin@farmship.ca ) and we will work out the refund. Thank you.
Re-Useable Totes
Farmship seeks to reduce packaging and waste by packing the contents of your Box into a reusable tote for delivery.  As a member you agree to return clean, empty totes by putting them out for collection on your following delivery or to drop them off at the pick-up location.
Feedback is always welcome – and encouraged!  Is there a product you'd like to see Farmship offer?  A producer you think we should meet? A change in how our program is offered that might make it more accessible? Please let us know what you think.  If something's not working for you, we want to know. We want to make local organic food work for you! Let us know how we can improve our service. admin@farmship.ca
Privacy
Farmship is collecting your contact details and a bit of personal information for the logistical purposes of our shareholder list only. This means that we are not sharing your info with anyone else, and it will remain secure.
When you become a Farmship CSA Member, we will be contacting you regularly during the season with the contents of your box, farm updates, some recipe suggestions, and opportunities to meet the growers.  If at any time you wish to unsubscribe, we will be happy to accommodate.