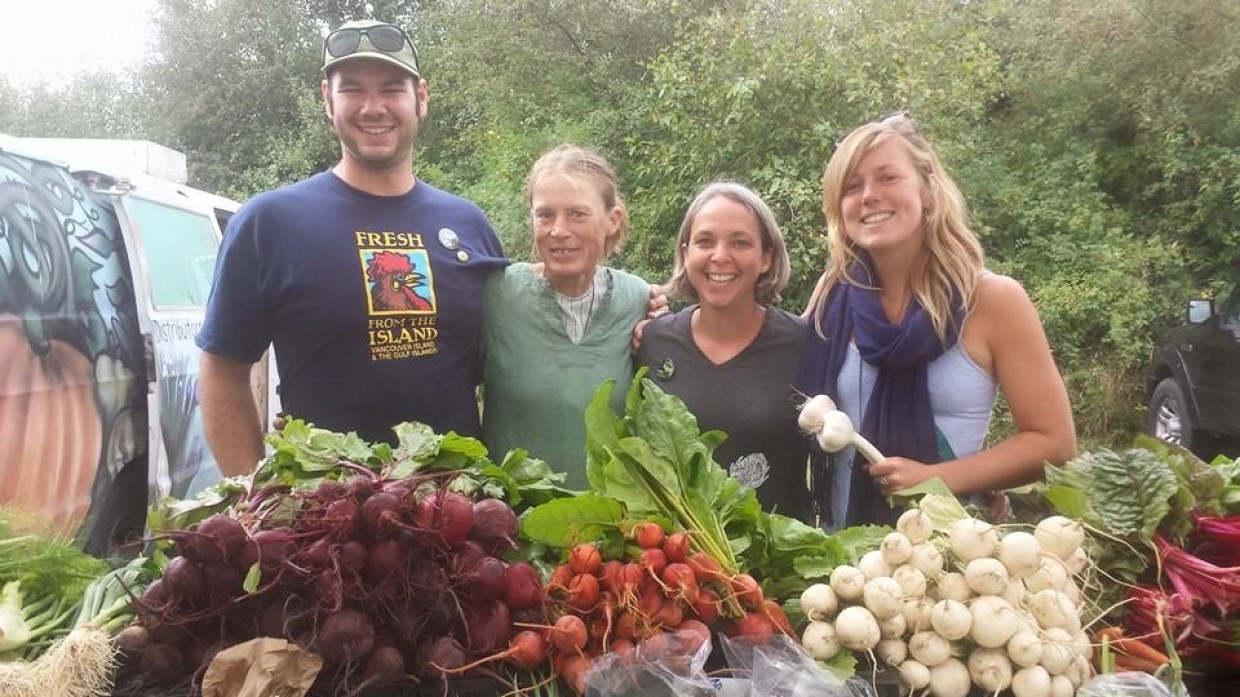 What we do
We grow over seventy different crops naturally and sustainably on our partner farms. Our production capacity is increased by pooling each of our members resources together.

We sell fresh high quality produce directly to consumers at farmers markets, online, through small independant grocers, to local restaurants and to members of our Community Supported Agriculture fresh box program.

We participate in programs and educational events that engage our community around food and farming. We collaborate with not-for-profit organizations and institutions for the betterment of local food security.
Mandate
A co-op of growers dedicated to food security and sustainable farming practices located in the Yellow Point agricultural area just south of Nanaimo, B.C.
Farmship's Goals:
Broaden consumers' access to healthy locally-grown food.
Offer a platform for mutual support to small-scale growers in the region.
Address regional food distribution issues.
Provide educational activities around sustainable farming practices.
Contribute to local seed sovereignty.
Our Story
The co-operative's purpose is to perpetuate naturally grown food crops at Wyndlow Acres Farm, in Yellow Point and elsewhere in the mid-Vancouver Island region of British Columbia through the operation of a financially viable, socially just, and environmentally respectful, cooperatively owned enterprise that employs its members and others in research, production, sales, education, and other related activities.
Farmship Growers Co-op sprouted when four farmers came together in the winter of 2013. Craig Evans and Jen Cody of Growing Opportunities Community Farm Cooperative had left Providence farm in search of land to keep growing their community farm. Chris Brown of the ReFarm was searching for a new location for his production. Finally, Isabelle Morris of Isabelle's Garden was searching for committed, dedicated partners to help grow a sustainable vegetable production on her family farm in Yellow Point. Since that beginning, we have grown in acreage from 2 to 12 acres in organic vegetable production and a number of partners have joined the ranks. Farmship employs about ten people, some year-round.
Farmship has positioned itself in the Nanaimo community as an energetic growing force! Our team members are chosen to complement the team. Each new members contributes skills and passion to offer a new edge to benefit Farmship's growth and sustainability. Have a glance at our team members Team Bios here.
Farmship's grassroots values , its commitment to increasing local food availability in the area and to growing a healthy community has generated a lot of interest among community members wanting to take part in this movement. Farmship opens its gates to everyone who wants to contribute to this amazing vision. Volunteers come and lend a hand on the farm, get dirty, share experiences about sustainable farming practices and socialize with like-minded individuals. Visit our Get involved page!
Farmship distributes its produce through a CSA food box program with pick-up sites and deliveries in Nanaimo and area. It also sell directly to consumers through central Vancouver Island farmers markets. Our Online Store allows to purchase directly online. Farmship produce is also featured on the menu of several local restaurants and a few independent local stores.